In My Arts, I tried to work with people outside the art world, specifically those who didn't study in art school. I used questionnaires as a way to find out about their ideas of art. The results of these questionnaires were the inspiration for this work.  I then collaborated with the project participants and produced artworks with them from their sketches and ideas.
Through the piece My Arts, I wanted to make work that related to people outside the art world. As an art student or someone who has received an "art" education, we tend to create artwork that we want and that fits into the box of our art clique.  We don't aim to create something that connects to the world outside of the art community.  Perhaps this is why the general public usually does not comprehend "art". The aim of this work is to question the meaning of "art" and also to attempt to reach out to a broader spectrum of people.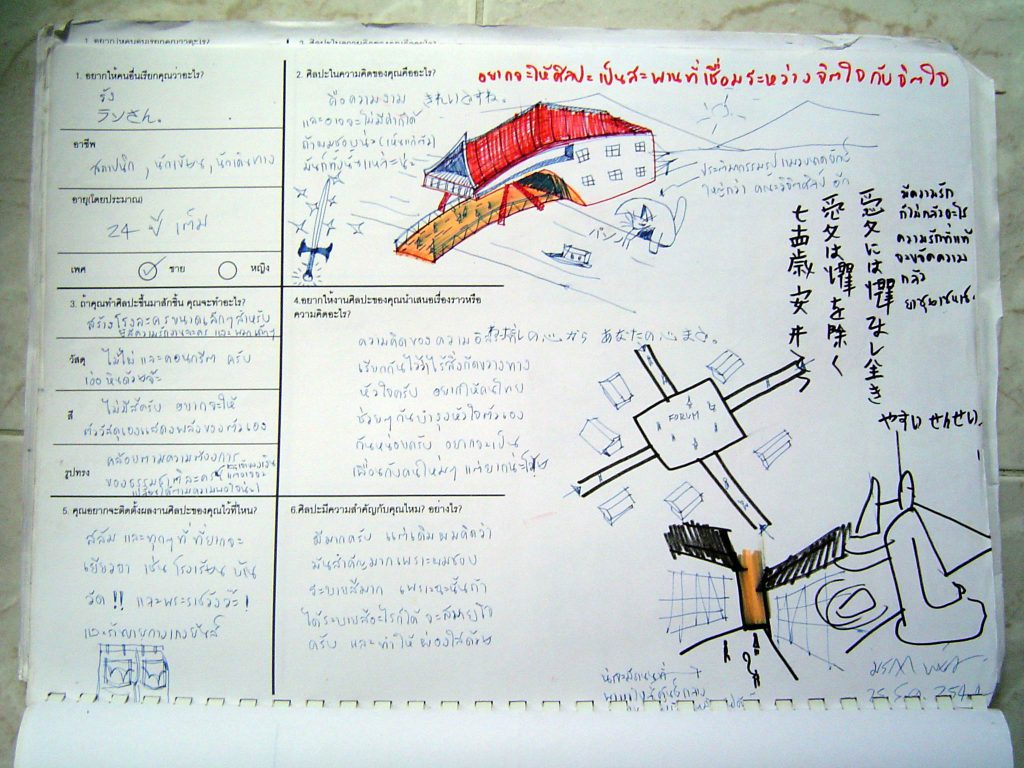 Translation of the questionnaires
What do you want to be called? Your general biography
What is art in your view?
If you are an artist, what would you make? What materials, colors, and shapes?
What is the concept or story of your art?
Where would you like to install or exhibit your work?
Is art important to you? How?
Year: 2001
Dimension: variable
Materials: paper, pen, pencil, paints, plants, glass, wire, sound recorder, CD player, pillow, masks, photos, ceramics, wax, clay
Venue: Library, Faculty of Fine Arts, Chiang Mai University, Thailand